Signature Selfie Volume 1: A-G, M, V.
A series of medium and large scale hand silk-screen and heat-press printed textiles with elements that nod to the tradition of garment making (straps, hems, and finishes). Size ranges from 62"W x 50"L - 62"W x 20" L.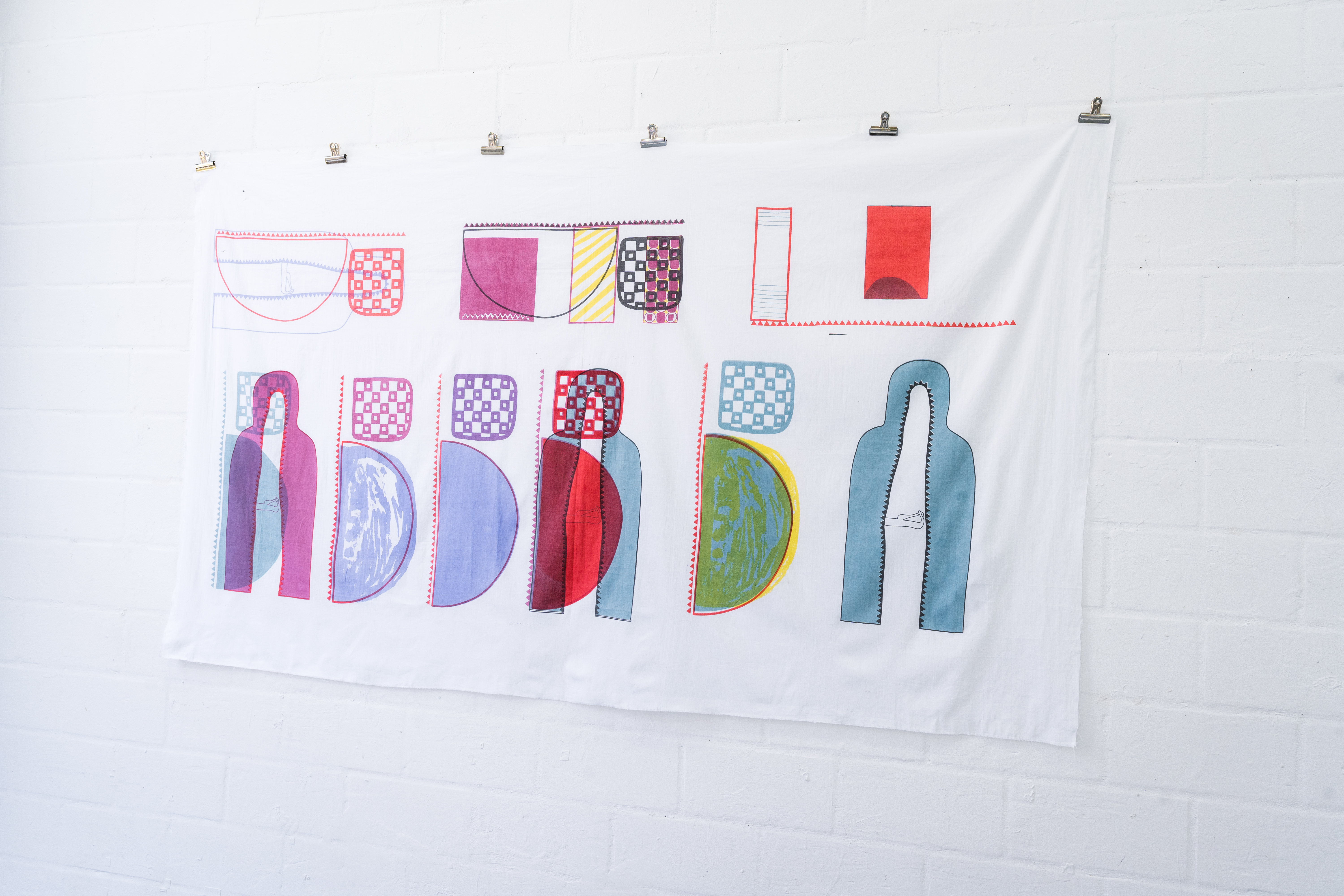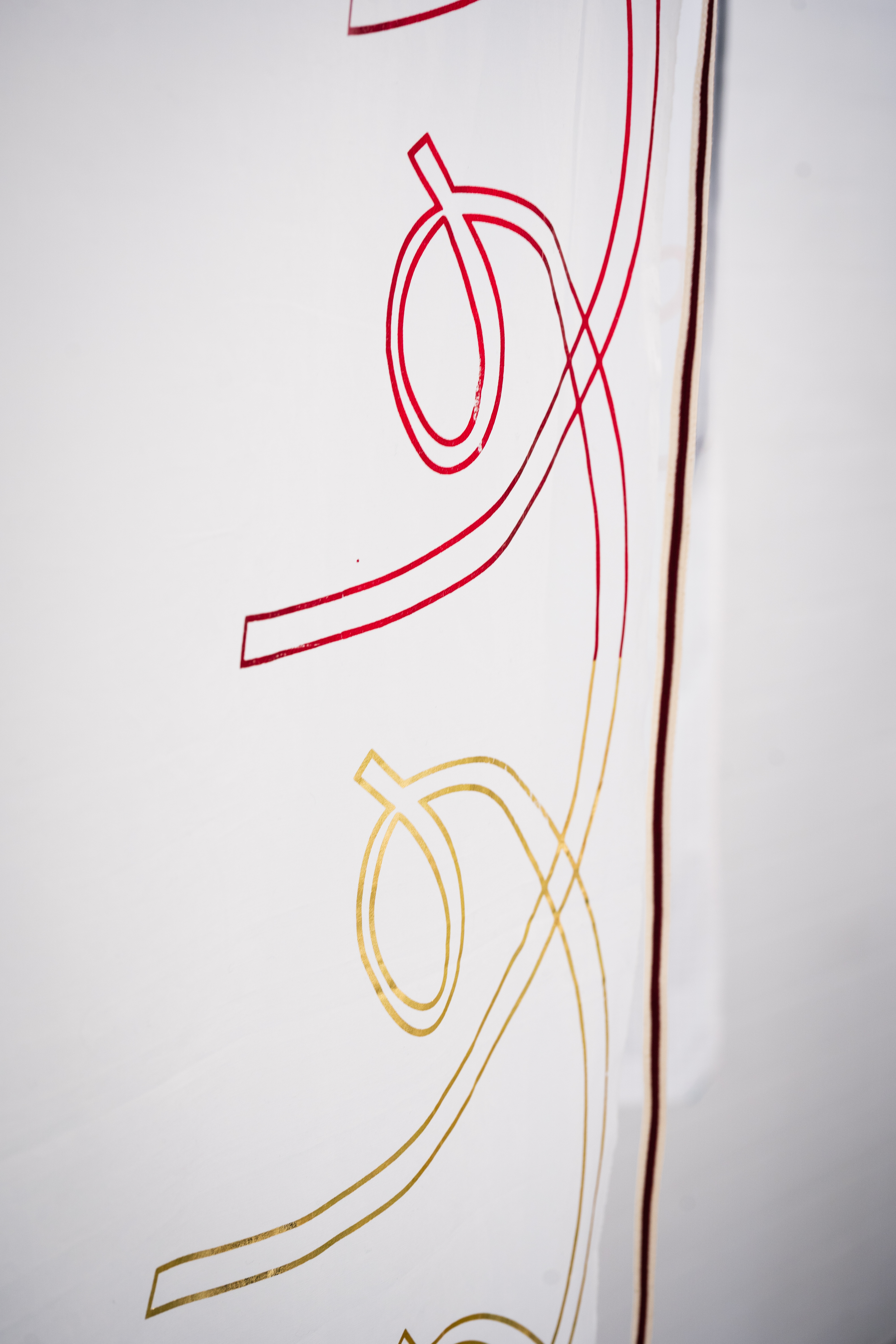 Signature Selfie Volume 1: A-G, M, V explores how the symbols, signs, and visual markings we wear affect the perception of ourselves.

This era expects us to brand ourselves to have a place in the world; the ambiguity of public and private selves is increasingly evident. Before, monograms and hand signatures were our representation in public life. Selfies do that nowadays. At the same time, everyone wears logos. But what if we wore our logo all the time? Does the perception of ourselves change when we are constantly branded by wearing our logo or having a flag of it? Are selfies the current branding mechanism?

The work consists of a series of medium and large-scale hand-printed textiles inspired by Wiener Werkstatte's use of monograms as personal logos and the uniquely personal and abstract nature of handwriting and handwritten signatures. These prints hover between abstraction and figuration and invite the viewer to question the ubiquity and purpose of personal branding.

The way Wiener Werkstatte used each member's monogram as a logo draws a parallel between monograms and the selfies everyone takes nowadays with their phones. For the members of the Wiener Werkstatte, their monograms represented themselves and needed to encapsulate the philosophy of their work and the movement and, ultimately, their essence. When they saw their monogram, they saw themselves in it. Just what we want the selfies we take of ourselves to do. But selfies are thousands, each capturing a different moment, a different version of ourselves. No more one visual will encapsulate our essence.

With the same approach, A person's handwritten signature was considered a representation of themselves, and everyone put great effort into creating the "perfect signature."

But handwriting is disappearing. Younger generations no longer know how to write or read script texts. And this form of representation will be forever gone.

Each piece comprises silk-screen printed geometric and organic shapes that form the letters in a monogram. On the fabric's selvage, heat-pressed markings resemble handwriting exercises on the edges of a page. These suggest something that continues outside the picture plane, like a bolt of printed fabric with its continuous patterns or pages of a notebook full of scribbles and doodles.

For this, I designed a font with the first half of the alphabet plus my initials. The font combines geometric shapes and more figurative forms resembling the human body. By laying each letter on top of another to create each monogram, a new shape is made from the negative space and the color overlays' transparency. This act resembles linear writing by laying one letter after another. It also nods to how Western societies taught handwriting and calligraphy in linear forms.

Various added elements that nod to the tradition of garment making (straps, hems, and finishes) make it unclear if these textiles are supposed to be draped on a body or hung to be displayed.

The medium textiles of this body of work show these monograms' creation process resembling the repetition in writing exercises interpreted as the constant search for different ways of presenting oneself—our diverse identities.